When did you first create B2B Marketing Leaders Forum? 
I have been a passionate B2B marketer for over two decades. From Telco/IT/Service Provider Ericsson and IT media and publisher IDG in Sweden to Head of Marketing ANZ at large, global, B2B conference and exhibition company Terrapinn. When asked to move to the Middle East to set up the new marketing department for our new office in Dubai I jumped at the opportunity. Dubai is known for the most incredible B2B exhibitions and events, it's the gateway for doing business across the entire Middle East, I ended up staying for four years before heading back to Australia.
Why did you decide to start such a venture? 
Since the first marketing event I ever attended for my own personal learning and development back in 2004, even though there wasn't a term such as B2B back then, I was ever only interested in hearing from the speakers from the likes of large B2B organisations like Cisco. The speakers from Nike, Coca-Cola or McDonald's just never interested me as I just couldn't relate.
When I returned from Dubai in 2011, B2B marketing saw a massive amount of change with the introduction of digital marketing, transformation, social media, inbound, content, the MarTech stack and I was really struggling then to keep up with all these changes. Still, there were no educational specific B2B marketing conferences I could attend to keep updated on all these trends.  
At about this time, the US and UK started holding B2B specific focused marketing conferences but still nothing in APAC.
This is when I decided to create one for myself, initially for my own personal learning and development, with the companies and topics I personally really wanted to learn from.
 In 2015 I launched B2B Marketing Leaders Forum and six months later we held our first event in Sydney. Being told that B2B marketing is a "very niche and small market" I only hired a venue for 100 attendants, although we sold out at 130 tickets with very squashed seating. 
Since then, we have grown year on year, now operating in Singapore and Melbourne – we would have expanded even more if it wasn't for COVID-19.   
What was your industry background before this?  
Having been born and grown up in Sweden, I have a B. Com Honours in Marketing and Strategy from the University of Canterbury in New Zealand. This led to me securing my first job at Swedish Telco, Ericsson where I worked with customers like large global telco operators such as Korea Telecom responsible for project management of network rollouts and also bid and contract management. Even at university, I knew I wanted to go straight into large B2B organisations working with large complex customers and buying cycles and centres.
I then moved to IDG, which Swedish office was their third largest globally after the USA and Germany with over 20 IT-specific publications such as ComputerWorld and CIO. Here I worked with all our publications in a marketing/events role briefly before moving permanently to Sydney in 2004. 
Just Global recently completed the rebranding of B2B Marketing Leaders Forum using the ubiquitous business icon of a bar chart. What was your first impression of the work when you saw it presented? How is it being received by the community and what are the future plans with the new communication platform?
Oh, I loved the rebranding when I first saw it.
It encompasses everything the brand stands for – Data, Analytics, Growth, Revenue – and looks so much better than I could have ever dreamed of. I don't have a designer's eye, which I mentioned earlier, so I didn't notice the "B2B" straight away, although when I did, it made me love it even more – how clever – and even if people don't recognise that part straight away, it is still so impactful!  
We haven't even managed to use all the elements yet, so we are excited to see how it can be evolved and used across all the brands, which has already been put in place with the different use of colours. 
What have been your biggest challenges when building the brand? 
Since day one I've always been crystal clear about what the company and events stand for: "Where B2B marketers turn their departments into revenue-generating machines, secure larger budgets and a firm seat at the leadership table". But being very left-brain dominant in analytical skills, I completely lack any creative or design skills.
So even though our brand purpose and vision are crystal clear, we've never been able to translate that into a logo.
Since our launch in 2015, we have been through so many logo designs and designers, some that only used stock footage. So we've never been able to articulate in the brand logo what the B2B Marketing Leaders Forum stands for.
Considering how low the barriers to entry are in the events industry, I wanted to ensure that if anyone else (which has been done) is launching B2B marketing conferences, everyone strongly associates my events with me so that no competitors could come in and confuse our speakers, sponsors or audience.
This is why, I am so grateful and in awe of what the Just Global team has managed to do.
They have fully understood my business and they have been able to represent that in a way I never could have imagined. It is so simple, yet so impactful and clever, as well as being versatile across all the brands within B2B Marketing Leaders Forum. 
To me, the graph in the logo represents everything we stand for, data, analytics, revenue, and growth.
What have been your biggest challenges since COVID-19 struck and in-person events were put on hold?  
We originally had our flagship event planned for May last year, although when everything started changing at the end of February, we didn't sell a single ticket after the 1st of March. This caused us to act very quickly, a lot quicker than other brands, and we pulled the plug, originally postponing until October.
This obviously got pushed back further, and we were very quick to communicate with everyone to ensure they were well informed in plenty of time.  
How have you overcome these for B2B Marketing Leaders Forum 2021?  
We quickly pivoted to digital and launched virtual events and webinars. We launched the first-ever ABM event in APAC as a virtual one-day event in October last year for example.  What's great about virtual is that in the past, for example for our Singapore forum, saw about 90% of delegates come from Singapore. Now for our virtual Asia event, they're able to bring along their entire Asia team so we're reaching Japan, Korea, India, China, Hong Kong, Vietnam, and more.
We were lucky enough to hold our Sydney Forum in-person in May and we held that as a hybrid event and had attendants from across APAC tuning in which was such a great experience. We'll be doing this type of hybrid event for all our in-person events in the future.
When putting an event such as this together, what are your main priorities?  
Our priorities have slightly shifted since the working world has changed, as I can imagine is the case for most companies. We will now progress with all our events being hybrid, to allow us to target a wider audience and accommodate everyone who wants to attend in any way they can.  
I personally don't 'run' the events, as my passion is with the marketing and I have a very capable team, but the priority for all our events is ensuring a high quality of speakers and content. This includes 80 speakers, which comprises of 20 moderators and 60 CMOs.  We only ever want to hear from brands' CMOs on their personal experience and learn from them directly. As much practical advice and learning our audience can walk away with, that they can implement within their own organisations, the better.
Given your vast experience with conferences and building communities, what advice would you give to brands as they prepare to sponsor and/or participate in event marketing? 
I would always recommend speaking from a personal level, more than a business perspective, and never sales. This engages an audience a lot more and enables the speaker to be seen as a human, instead of just the brand.  
We can't wait to go back to large scale, in-person events again. When at an in-person event, you have ample opportunities to speak to people, which I would always advise you do – virtually these don't present themselves as easily. Much deeper and personal relationships are developed in-person as compared to purely digital leads.
You must go through your list of event-leads with a fine comb and look at each and every lead and then develop a personalised one-on-one approach with each lead. A CMO speaker at one of my events is not going to respond to your email campaigns. The next step I strongly recommend is to host an in-person lunch or dinner 3-4 weeks after the event and invite your top prospects to that.
Then I have to mention how surprised I am when I attend events and exhibitions today of the amount of salespeople on their phones or hiding behind their computers at their booths. Or if you have a huge group of sales reps at your booth – these all become so very unapproachable to the prospective buyers at the event.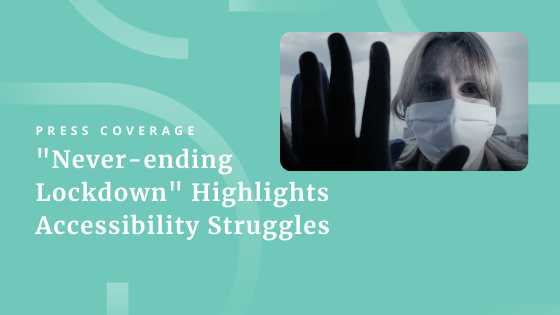 Just Global illustrates the never-ending isolation experienced by the disabled community for disability access specialists, Inclusive Places.
Read More »
We were invited to be one of the first to preview LinkedIn Marketing Lab's Certifications to provide feedback and help shape the program.
Read More »
According to the National Women's Law Center, the unemployment rate for mothers in the U.S. more than doubled in 2020 from the previous year. Emily
Read More »